NEW YORK (TheStreet) -- Gold prices were bouncing Tuesday as bargain hunters jumped into the market, helping prices recover from a 12% selloff.

Gold for December delivery was adding $65.90 at $1,660.70 an ounce at the Comex division of the New York Mercantile Exchange. The gold price has traded as high as $1,679.20 and as low as $1,616.80 an ounce, while the spot gold price was adding $32, according to Kitco's gold index.

Gold prices were trying to recover after a brutal 12%, four-day selloff, which had some experts looking as low as the $1,480 an ounce level for support. But gold picked up traction in overnight trading as bargain hunters stepped in amid options expiration. Traders must decide whether or not to exercise an option (either buy or sell), hold a futures contract or let them expire.

"We may see the new trading range develop at the higher level, $1,625 - $1,700," says George Gero, senior vice president at RBC Capital markets. "Gold's rally is a major relief to investors as ... asset managers sales are [not] now needed as stocks are in a rally mode."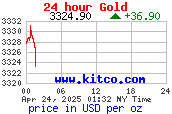 Barclays Capital says that the larger backdrop for gold remains unchanged and is "still gold-fertile." The firm says that the eurozone is still behind the curve in tackling its ballooning debt issues. "Macro insecurity amid low interest rates continues to be supportive for gold beyond the near-term weakness."

Most experts are now waiting for physical buying to kick in from China and India as both countries are in the midst of numerous festivals which gives consumers lots of reasons to buy gold. Barclays is expecting demand from India to cushion any deep gold price fall.

China is also preparing for its National Day, a week-long holiday starting October 1st, which is typically a strong gold buying period. The Shanghai Gold Exchange raised margins to 20% from 15% during the period to help combat volatility but they will return to normal by October 10th.